Our first Celtic longboat is named in honour of one of the heroes of the tragic wrecking of the steam clipper, the Royal Charter.
Joseph Rodgers (Guzeppi Ruggier) was a Maltese seaman and crewmember of the doomed Royal Charter. When the ship was wrecked off Moelfre in the worst storm in the 19th Century he, in an act of great heroism, was able to reach the shore with a line.
This enabled the setting up of a Breeches Buoy/Bosun's Chair and, with the courageous efforts of the locals who formed a human chain in the waves, led to a number of lives being saved.
Of the 376 people aboard the Royal Charter only 18 passengers, 5 of 11 riggers working their passage, and 18 of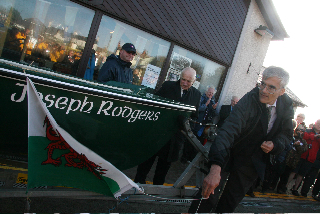 the crew were saved before the line parted (no women or children survived). Without the bravery of Joseph Rodgers, many more lives would surely have been lost. Rather than by drowning, most fatalities were caused by the trauma of being dashed against the rocks and wreckage- despite the risk of the same fate befalling them, Joseph Rodgers and the local villagers braved the breaking seas to try to save the lives of the rest of the crew and passengers.
The shipwreck is also notable for the impetus it gave Captain Robert Fitzroy, Royal Navy, head of the Meteorological Office, to develop the first gale warning service. The data gathered from across the country for the speed and direction of the winds defined a 'perfect cyclone'. The diagram was used to illustrate the Board of Trade Wreck Returns for 1859.
More about Joseph Rodgers can be found on his decendant, Prof Raymond Agius', website (which is the source of these photographs).